In addition to what we all do as individuals to improve the lives of animals, state law can have an important impact. Here is a summary of current animal welfare legislation in New Jersey.
Contact your New Jersey legislator and make your opinions known.
A1817

Prohibits persons violating animal cruelty law from owning, keeping, or harboring animals; requires DHSS establish and maintain website list of such persons.
Introduced, referred to Assembly Agriculture and Natural Resources Committee.

A928, S515

Enables veterinarians to satisfy up to half of their continuing education requirement by performing free spay/neuter surgeries for towns and non-profit organizations operating Trap-Neuter-Return (TNR) programs and for low-income residents' companion animals.
Passed the Senate and the Assembly.

A2346, S1590

Protects the assets of county SPCAs (such as the Monmouth County SPCA). Revises law concerning disposition of assets of a county society for the prevention of cruelty to animals that has dissolved or has had its charter revoked, canceled, or suspended.
Passed the state Senate and is now in the Assembly Agriculture and Natural Resources Committee.

A1633

Permits court to include animals in domestic violence restraining orders.
Introduced, referred to Assembly Judiciary Committee.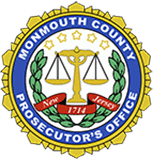 Monmouth County
Prosecutor's Office