MCSPCA Launches Pilot Program Placing Shelter Dogs with Local Police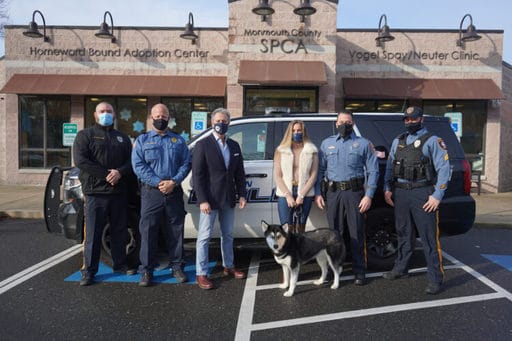 Eatontown (January 8th, 2021) – The Monmouth County SPCA has recently introduced a pilot program placing shelter dogs within police departments to serve as emotional support animals. The Eatontown Police Department is the first to partner with the shelter with its Chief, Bill Lucia serving as the proud adopter of a dog named Tala, who says "It is really such a simple concept when you think about it, anybody can have a dog at home, but having a dog at work has proven to be very impactful in assisting officers coping with stressful situations. It has also had a significant impact on the overall morale of the department."
Tala, a purebred husky, came to the MCSPCA on a transport and was originally rescued from a hoarding farm in the south. Tala lived outdoors, with dozens of other dogs and rarely had the opportunity to interact with humans. Tala's life changed forever when she arrived in New Jersey and met Chief Lucia, as she was finally able to express all of the love she was saving up during her years alone. Tala has no formal service training yet, but she behaves in public settings; ignoring distractions and staying near her handler. On the contrary, when Tala is at the station you can usually catch her running up and down the hallways, taking long walks with her officer friends, or politely asking for treats with the signature husky "AH-WOOO".
For the officers of the Eatontown Police Department, having Tala at headquarters has been extremely valuable. A few times per week, officers will return from high-stress calls and seek out Tala for comfort.  Chief Lucia adds, "Tala allows the officers to relax and de-stress in a way that they may not even realize, while not drawing attention to themselves. Nobody thinks twice about an officer taking a dog for a walk, but that walk allows them to clear their head, calm down, or just escape for a little bit. It's also great for the dogs because we can provide older dogs that are usually harder to adopt a great home. It really is a win-win."
Executive Director of the Monmouth County SPCA, Ross Licitra says, "We are tremendously proud to launch this program that not only gives a home and family to a shelter dog, but also supports our local police. We are hopeful for this program to grow into many successful, mutually beneficial relationships."
After hearing of the success of the Tala at the Eatontown station, other Monmouth County Chiefs and Police Departments have already expressed interest in the program.  Interested parties are welcomed to contact the shelter for more information about the placement program by emailing [email protected] or calling 732-542-0040 x 7.