Our vision is to make New Jersey a place where every animal is treated with respect, kindness and love. 
Even though the animals in our care reside in state-of-the-art housing, what they really need is a loving home.
Come visit our Homeward Bound Adoption Center.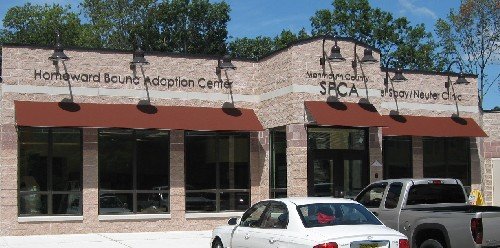 Maureen O'Brien Cats & Dogs Thrift Store
All proceeds from the go to help the animals at the MCSPCA.
Vogel/Spay Neuter Clinic
Providing low-cost spaying and neutering for your pets.
For more information, please call 732-542-3125.
Woofs 'n' Whiskers Boutique
Shop for pet supplies (collars, leashes, etc.) at the Woofs 'n' Whiskers Boutique in the Visitor's Center at the MCSPCA. All proceeds go to help the animals.
260 Wall Street Eatontown, NJ 07724
Hours
Monday: 12-5
Tuesday: Closed for Adoptions
Wednesday-Friday: 12-7PM
Saturday & Sunday: 12-5PM